Have you ever felt like experiencing chronic pain is a bit like working your way through a maze? You feel pain on one side of your body, and then the other, and then the weather changes and in rolls the migraines along with the pressure. Suddenly, your focus is gone and you're feeling a bit depressed to top it all off.

You may even feel fine having a glass of wine one night, but a few weeks later find that wine is the root cause of your crippling headache!

Or maybe one day you woke up with some diarrhea and three months later you're trying everything you can just to fix your digestion and the crippling pain from GI distress.

We get it, pain is mysterious and often times seems so disconnected from what we're doing that it's difficult to wrangle the pain experience or have any hope that one day this pain is going to be gone.

The fact is that nothing is completely random. All of our symptoms have an origin and our bodies are actually built to heal. We have the most amazing bodies that we walk around in and if you're experiencing chronic pain, the body is being stubborn for a reason.

Pain management apps are fantastic tools to help you get to the bottom of this reason.

Why are you in pain? What are the surrounding triggers that cause the pain? What is the duration?

Learn how to track your pain symptoms like a scientist, engage in the right exercises (physical and mental) that will melt the pain away, and tame the other compounding variables that you now understand are having an impact on your pain experience. Once you have mastered your pain story, download your data and send over a Pdf to your doctor so they can have a look over it and work in tandem with you to take back control of your life and eliminate your pain.

The best part of it is that the power of pain management is placed back into your hands. You're facing your pain problems with agency and kicking your pain's butt.

Take a look at what we came up with as the top 20 best apps for pain management.
Migraine Buddy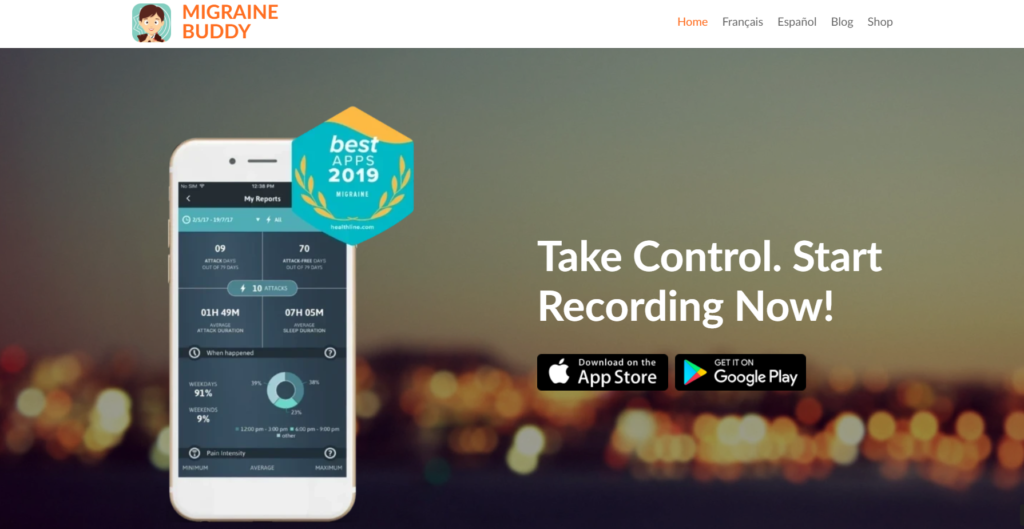 If you are in the migraine community then chances are you are highly motivated to understand the source of your migraine symptoms. You may be working with a pain specialist and still be unsuccessful. There's only so much a specialist can determine from your self-reports in one session. Not only that, but the ultimate goal for wellness is always personal agency and prevention. Enter Migraine Buddy. This amazing app offers pointed insights into your migraines that will be useful for you and your doctor. The platform is customizable through questionnaires. So only record information pertinent to your specific migraine experience- a time-saver in intense moments. The app is designed so that you can log your data while experiencing an attack including a "skip" option where you can return to logging after the attack is over. Migraine Buddy is a favorite among doctors and patients alike. If you are looking to understand patterns associated with your migraines, then certainly download this free app.
Cara Care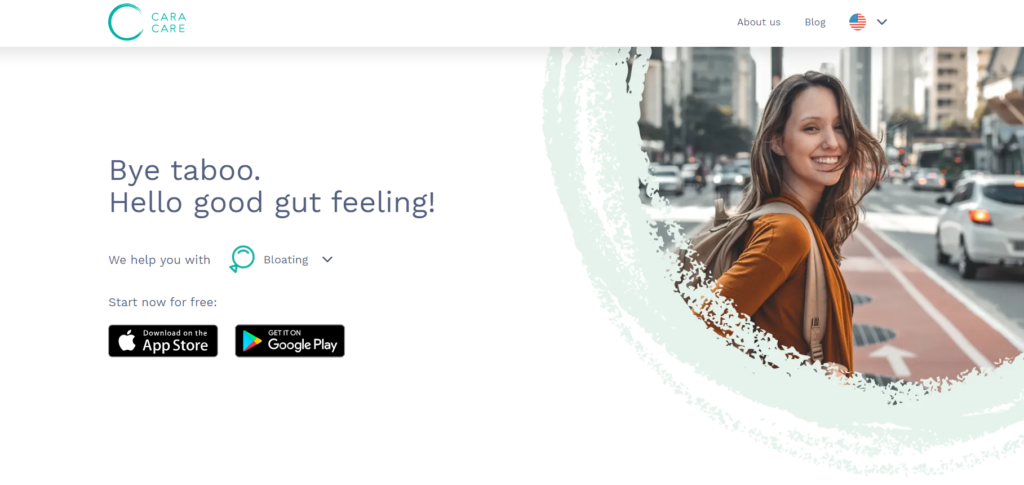 Digestive issues are extremely mysterious especially in a time where all types of foods are readily available and our fuel is prepackaged. Gut tests are expensive and though helpful don't always give you the most reliable results. After you receive the results how on earth do you know how to apply the feedback? How can you correlate what you have eaten with your symptoms? The point is that gut issues raise a ton of questions and can be so frustrating you feel as though you're getting nowhere with results. This is why we love Cara Care. GI distress and pain are extremely serious as digestive wellness is the cornerstone of your health. With Cara Care, you can track your symptoms including "food, mood, and poop." You can save your health diary to share with your doctor and other wellness practitioners. The app works well for special diets like low FODMAP, keto, and gluten-free among others. The notes section makes it easy to include any other information you want to making the app a real treasure for tracking digestive issues. To top it all off this app is free. It's time to take control of your GI pains once and for all.
Curable Pain Relief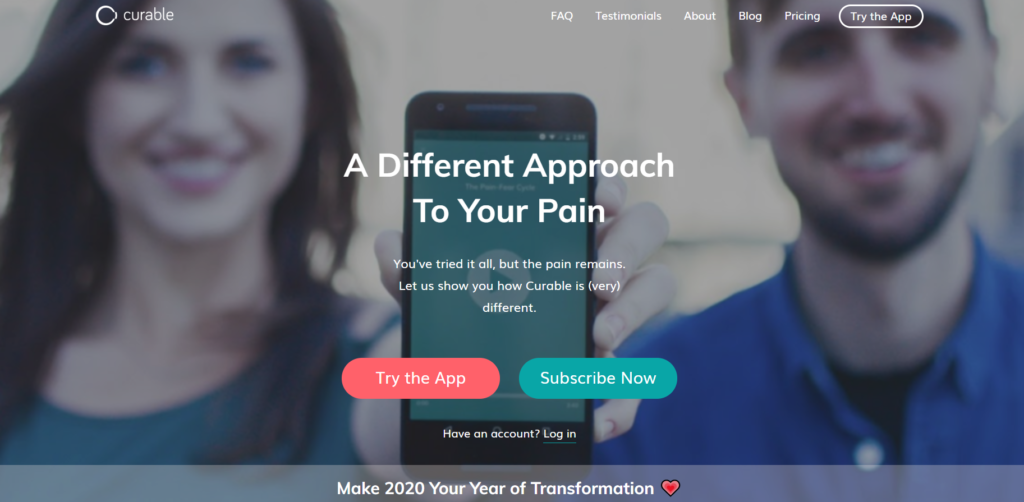 Pain is multifaceted and requires a multimodal approach to treatment. We love that the Curable app has addressed the mind-body connection so effectively with this app. Psychology and mindfulness in apps are taking off for a very good reason. It turns out that we are wired with a negativity bias and that wiring affects the way we view and even experience chronic pain. Curable's approach is to rewire the brain and over time eliminate pain. Users of the app have expressed that this process is "worth the effort." We love that users may still find relief after just 30 days. Individuals living with chronic pain will probably agree that this is no time at all compared to a life of living in pain. This app is not free. The fee is minimal compared to the amount of money an individual would spend receiving the same quality of treatment in person. We can all do something about our chronic pain which is a hopeful position to be in. We think you're going to love the brain training and tips as well as inspirational talks given by physicians and pain scientists. If you stick with the program we have no doubt in our minds that this app is life-changing. Still not sure, Curable offers a free trial on their website. You have nothing to lose except the pain.
PainScale Free Chronic Pain Tracker Diary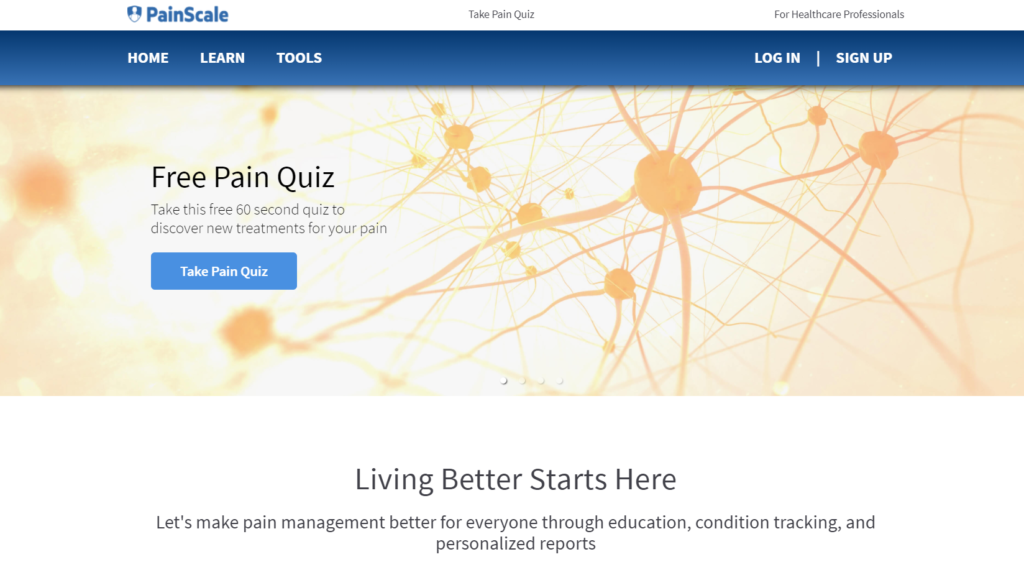 When we experience regular pain it's easy to get discouraged and to believe that there's no rhyme or reason to the pain and that it will never improve. You have the power to gain insight into your pain. Boston Scientific created an in-depth pain tracker diary to help you begin to take note of and track your own PainScale. Tracking your pain through PainScale is sure to be just what you need to end this type of hopeless thinking. Now you can track your triggers, log the level of intensity, create a pain report, and glean insight from over 800 articles and thousands of community members. You can even sink your Apple Health and Fitbit data for even greater insights. Using a pain tracker app is proven to help individuals overcome their chronic pain as it's putting the solution into the hands of the person who is the expert. Learn how to use mindfulness exercises and physical exercises to alleviate your pain experience and learn how to modify your behaviors to reduce pain-triggering movements and pain-triggering settings. We love that this valuable resource is free!

CatchMyPain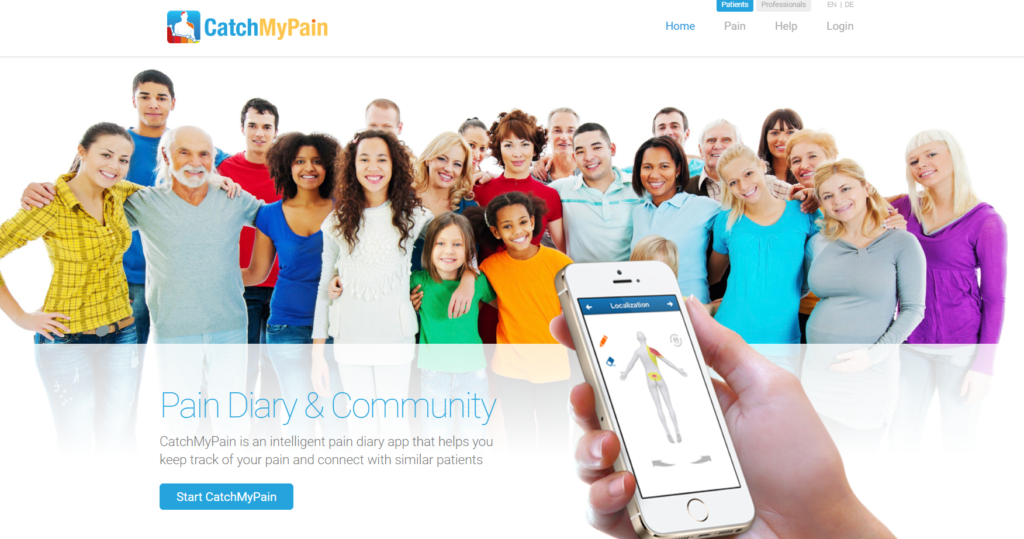 Catch My Pain is a user-friendly pain tracker app that helps you to get your story straight. One of the biggest issues facing individuals who experience chronic pain is how individualized the experience is. In other words, there is no one-size-fits-all treatment or approach to alleviating pain. There are no medications that work the same way for each individual meaning that everything that happens to you must be documented accurately in order to communicate effectively. This is why we love CatchMyPain. This user-friendly app allows you to actually draw on a model where your pain is located. You can log the intensity of the pain duration and frequency. Next, share your experience with the community and determine what alternative treatments are right for you. Bring your pain report to the doctor and never feel like you've lost track of your information again. Quality reporting leads to better quality treatment.

My Pain Diary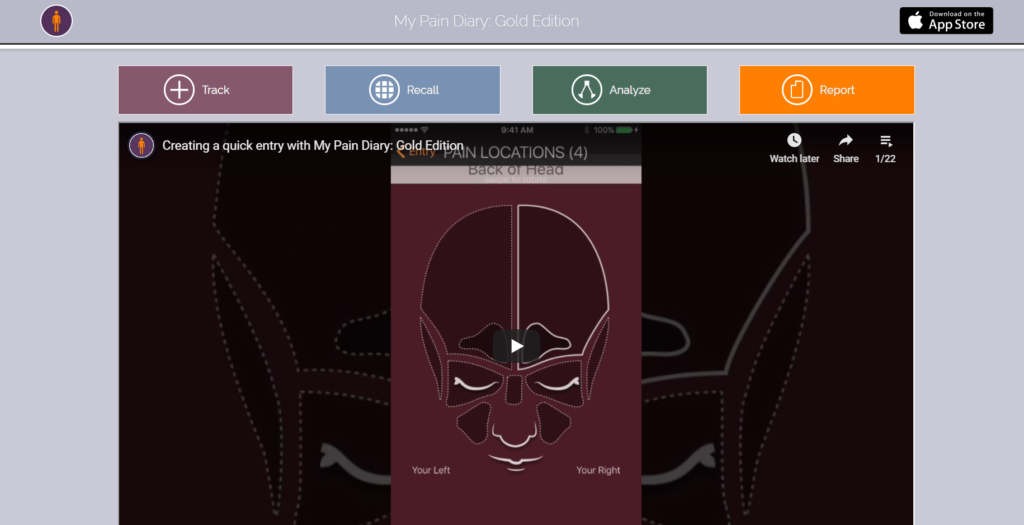 If you have Fibromyalgia, lupus, arthritis, migraines or anything that regularly causes you pain, you'll want to give MyPainDiary a try. All of those ailments have entirely different triggers and setting events that maintain or elevate the pain experience. Sometimes the experience can feel like it's just "all over the place" but really with enough information and consistent data collection over time you will see that there's a story behind why you're experiencing pain. My Pain Diary aims to fully capture that story. The app includes a section where you can locate your pain, a calendar, an area where you can report on the weather (great for people with arthritis or migraines), ways to take photos, an area to visualize the data via graphs and so much more. If your head is spinning by all of the factors then you will want to invest a small amount of money into a pain diary. We like this one for the individual who wants to track it all.

Chronic Pain Tracker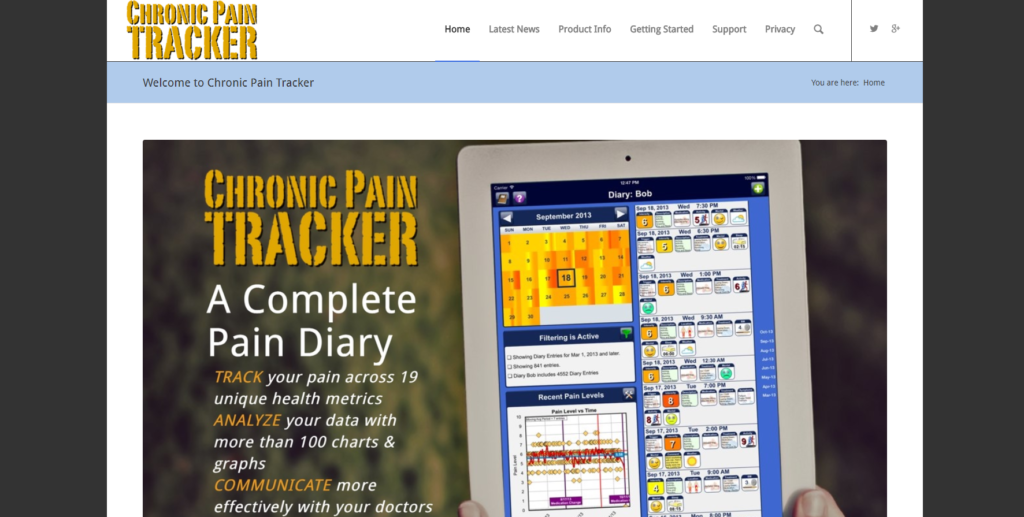 The Chronic Pain Tracker app is an excellent app that tracks nearly 20 different variables that may affect your pain. Users love the high number of variables that can be tracked as each piece is valuable information to give a doctor. You can track pain triggers, pain intensity level, pain duration, weather, health milestones, activity level, sleep, levels of fatigue both mentally and physically and so much more. Visually this app is busy but the users have reported that it is one of the most user-friendly apps they have tried. If you are not sure you want to purchase the Pro level app (which is only a small fee) you can always give the Lite version a try. The Lite version is similar enough to give you a very good idea of the app. There are many pain tracker apps on the market and this is one we definitely think is worth your time.

FibroMapp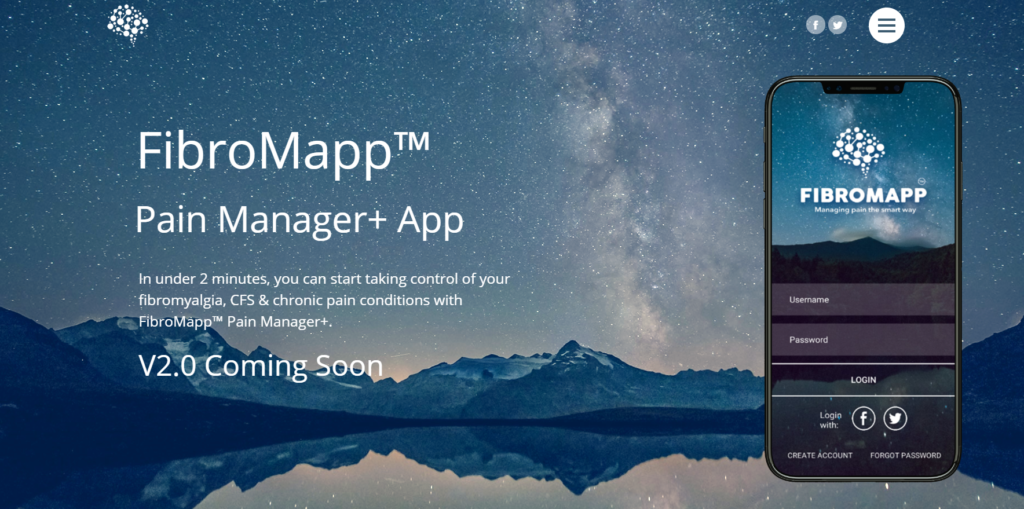 We think Fibromyalgia deserves its own app. It's a modern condition that affects millions of people and a very complicated problem indeed. The FibroMapp app is far from perfect but gives patients a chance to at least customize their reporting and get to the bottom of Fibromyalgia. We will spare the controversy around the diagnosis itself. With millions of people affected suffice to say that this condition is very real. Every health practitioner will have a different opinion about whether or not this is a curable condition or one you will have to manage for the rest of your life. We think with the right tools Fibro is manageable and the FibroMapp app is certainly one of those tools. Fibromyalgia patients will find this app useful as will individuals who suffer from another type of chronic pain.

WebMD Mobile Pain Coach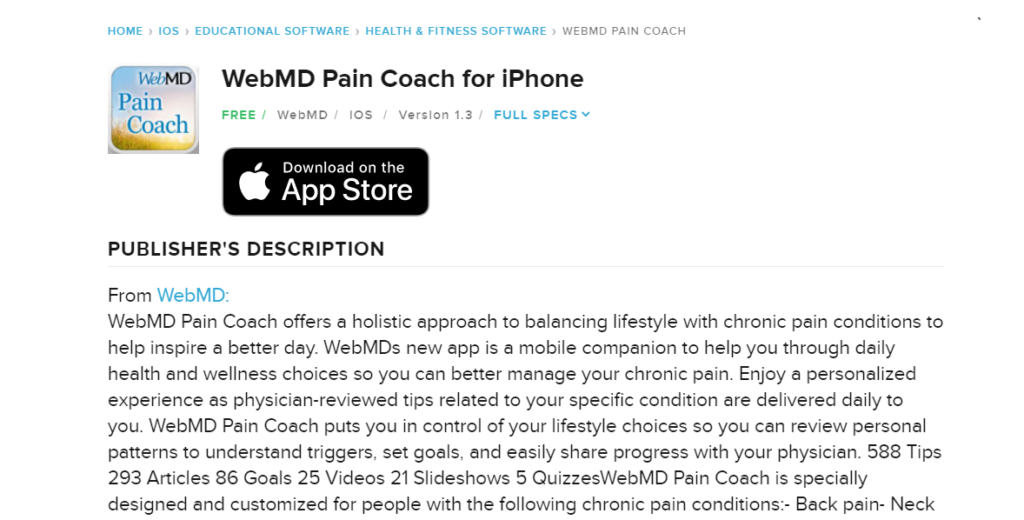 What are you looking for in a personal coach? If you said an individual to motivate you to achieve your goals then this is what you'll find with the WebMD Mobile Pain Coach. Like with other pain-tracking apps you will be able to track your symptoms and create visual data that is ready-to-go for doctor's visits and for your own personal insights. We love visual data as a motivator to get you ready to set personal goals. When we saw our data visualized we were intrigued when the pain started to go down. It showed us that we have the power to modify our symptoms. This is what sets the Pain Coach apart- you can then (based on your data) set personal goals maybe they are sleeping goals or food goals or perhaps movement goals. Each goal is specifically tailored to match your specific condition. Then you execute your plans. We like apps that call us to act in response to an ailment. It takes the guesswork out of "what do I do next" and puts the power back into your hands. This app might just change your life.

Flaredown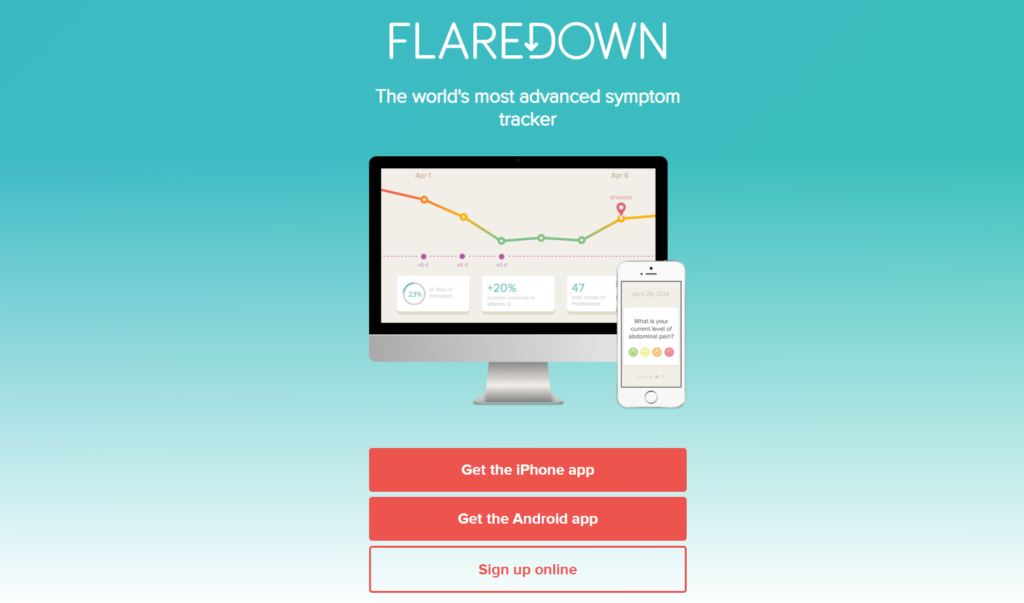 Flaredown is not a pain-specific app but one that aims to track symptoms for all chronic conditions. We had to include it here because after all conditions like Chrone's disease may not be pain-specific but certainly, do cause a significant amount of pain. The UI is simple and neat but we have read a few reports stating that the uploads are slow. Flaredown is a good overall app to use if you have a condition causing you pain that is not Fibro, arthritis or another painful condition. Like with other apps, Flaredown allows you to track symptoms and possible triggers including the weather and your food choices. You can even download graphs and other data sets to show to your healthcare provider. We like that this app is free. If you prefer simplicity than certainly consider Flaredown.

GeoPain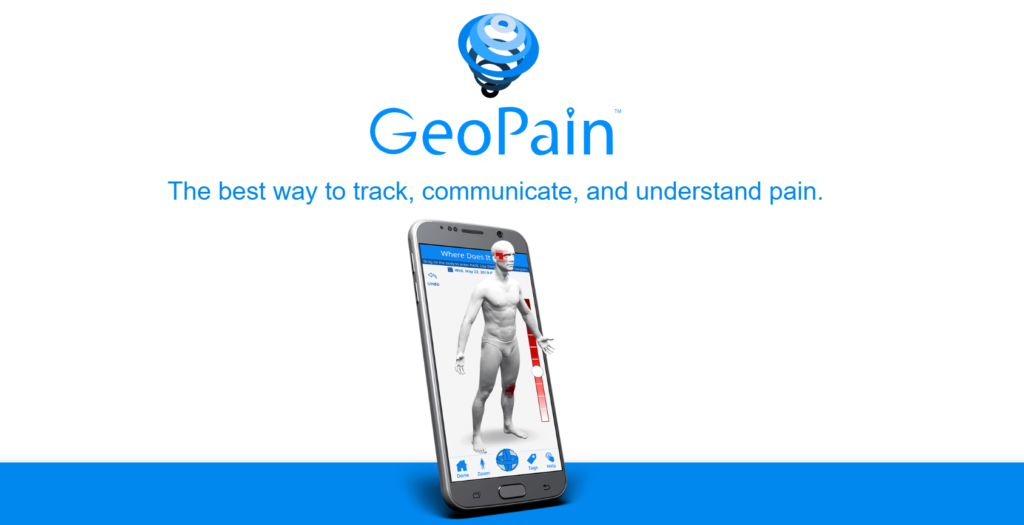 MoxyTech is a company that was developed in 2014 with one goal in mind "to improve the quality of life for patients in pain." We appreciate that they're devoting their mission to this cause and as a company seem extremely invested in their products and customer service. GeoPain is their app to help you track your chronic pain experience. It's a free app that is very visual. We are a huge fan of the 3D imagery and think you're going to love it. If you or a loved one is experiencing chronic pain than you know the way to deal with it is to put the power back into your own hands. This app aims to help you do just that. You can log your progress and all of the possible triggers. Visually this app is unlike any of the others that we have surveyed and think for this reason alone it is worth a try. If you're ready to bring some solid data into meetings with your health care provider, start by collecting data on this fantastic pain app. To top it all off, this app is free!

My Pain Diary and Symptom Tracker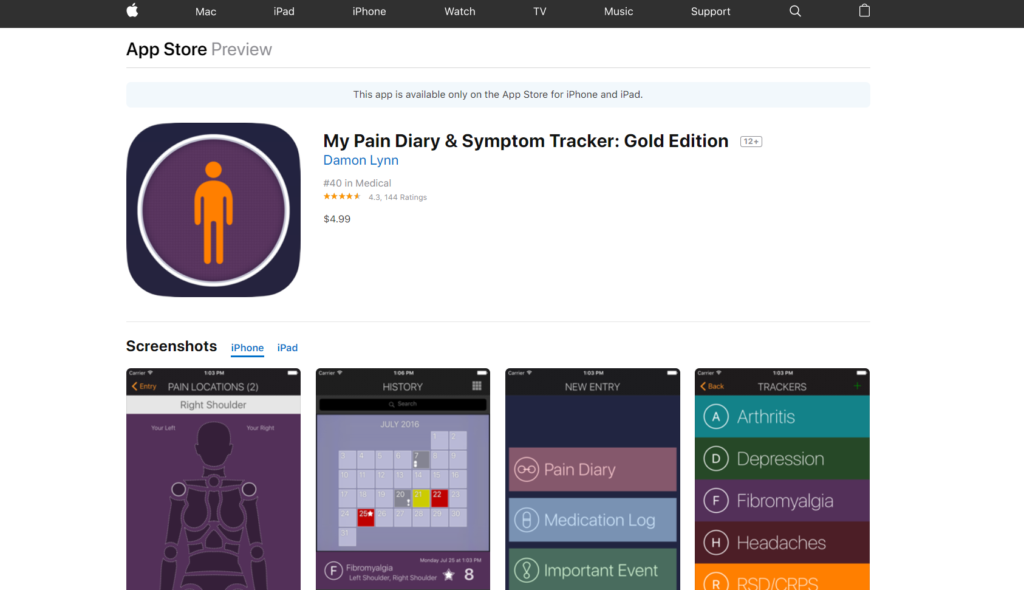 The My Pain Diary and Symptom Tracker is a highly-ranked low-cost symptom tracker for chronic pain. This app has a lot of components so factor in some time to familiarize yourself with the app. We like the visuals and the fact that this app is highly customizable. The app was actually created by a chronic pain patient and so a lot of TLC has clearly gone into the production of this app. The individual works to improve the app for your needs which is why it is highly customizable. If you have migraines, fibromyalgia, anxiety, or all of them then you need to get this app. We think this app is so realistic because it's created by an actual pain patient and not a team of scientists or doctors or other wellness professionals who are sitting on the "other side" of the pain experience. Sure the customer service is going to be a bit slower because it's just one Dad going solo on this team but we think this app may be what every pain patient needs.

Fitocracy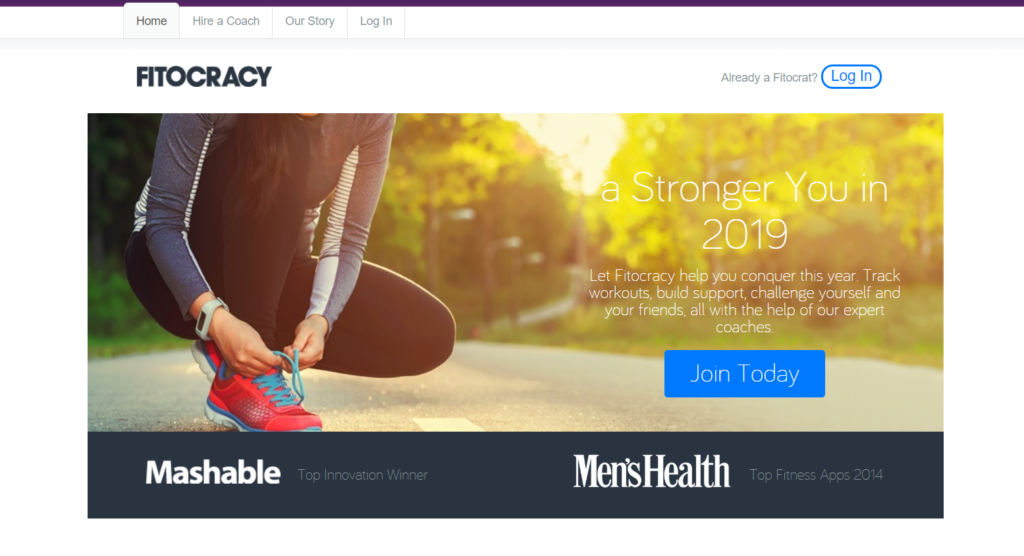 And now for something related but different. We can't emphasize enough the importance of exercise in the treatment of pain. We have recommended a number of apps for tracking your pain but what about kicking your pain's butt? We know this seems counterintuitive but exercise is going to help your pain, not make it worse. Of course over exercise can be risky but moderate movement with moments of intensity is just the thing to create some endorphins and get your body/mind happy again. After you're done tracking your pain on a pain tracker app head over to Fitocracy and start tracking your workouts. Be sure to notate when you started this program and we are certain you'll see a correlation between workouts and your pain dropping. The app is community-based and makes working out and logging workouts a lot of fun. If you are at all interested in adding fitness into your life, then why not give Fitocracy a try? It's fitness gamified.

Year in Pixels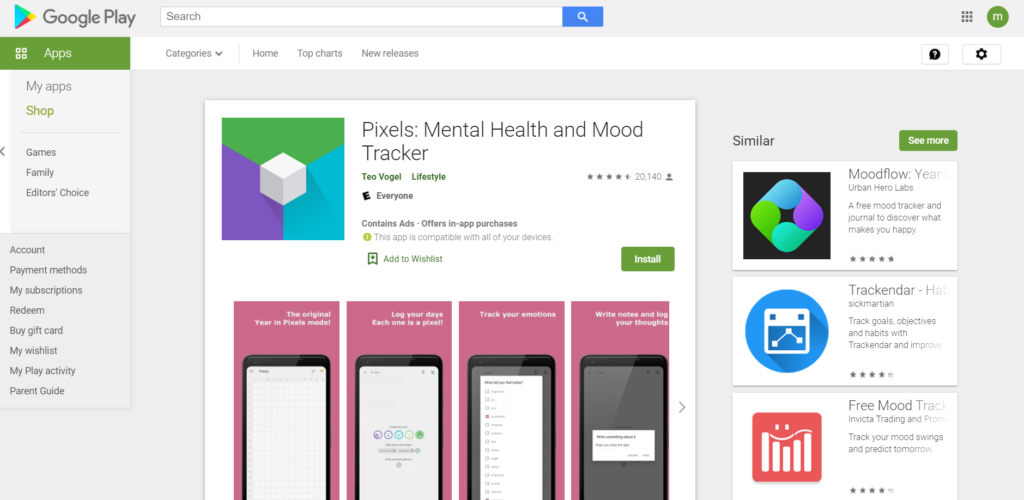 A Year in Pixels is a really simple concept that may be all you need to track to make a difference in your pain experience. We are all aware of the mind-body connection and there's a reason we chose an app that focuses on mood to help you reduce your pain. It turns out that your perception of the pain and how much you focus on that pain experience (linked with all sorts of other variables of course) will affect your pain. If you are in a good mood and see a trend of good moods will that lessen your pain? Of course it will! There's a complete connection with all aspects of well being. We like the visual simplicity of this app. Simply assign a mood to a color and color code your life. If you are the type of person who love color-coded systems then this is absolutely the app for you or if you like visual simplicity then give this app a try. The basic version of this app is free with an annual membership for their premium app. If you're interested in making the mind-body connection then why not give Year in Pixels a try.

MySymptoms

If you are suffering from IBS, SIBO, Chrones, Migraines and more then you are going to want to track your symptoms with this incredible award-winning app. What causes your GI pain does not have to be a complete mystery but often is due to the nature of this type of pain. There are several variables to consider when investigating GI pain and other symptoms to consider that may be related to your pain. How is your sleep? How is your skin? Your GI tract may affect the way you feel in so many aspects of life. Having this data in one spot really makes this process more manageable. If you're feeling ready to put in the effort required to heal your gut and understand your GI flare ups, then you may want to give this app a real try. The user experience is excellent and the cost of the app is extremely low considering all of the amazing (and useful) bells and whistles.
Recognise (all of them)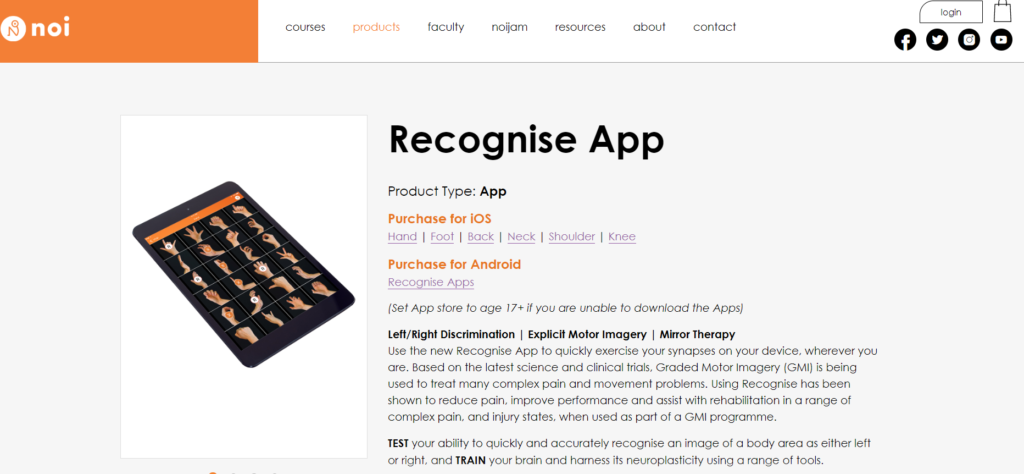 The Recognise apps are fantastic apps that help you understand pain and train your brain in ways to help you eliminate pain. Believe us this is done in ways you likely haven't thought of. The app features the latest in neuroscience and uses three key techniques to help you get your pain "under the pain radar." These techniques are all types of Graded Motor Imagery. Stage one is Left/ Right discrimination. Apparently individuals who experience chronic pain will struggle to discriminate between left and right body parts. The app trains this skill. The next stage of the three is Explicit Motor Imagery where you imagine yourself doing a motion or exercise. The last is mirror therapy. We wish Recognise would merge all of their apps into one to make this more accessible for individuals who experience pain in multiple places. That being said it may be important to teach these skills in isolation. We aren't sure about that. So if you're looking to take a new approach to treating your pain, then you should definitely check out Recognise.

Kaia (back pain exercises)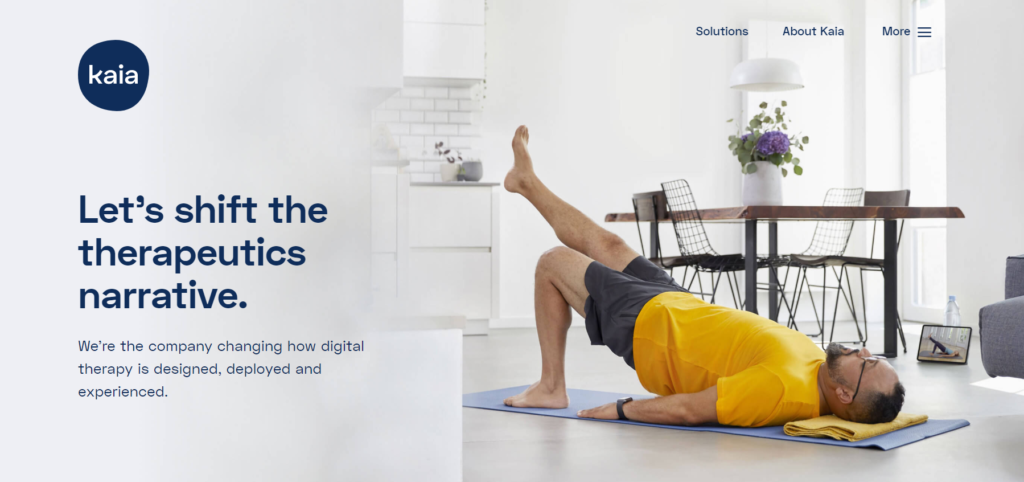 Kaia is an app with a series of exercises for back pain. It was developed in Munich and features physical and mental exercises to help you reduce your experience of pain. It's currently the most popular back pain app on the app store. This app was developed by scientists and doctors and is easy to integrate into any schedule. Here's what to expect- a daily exercise, psychological exercises that target your specific wellness needs, smart routines, and a lot of great information. If you commit to all three of these type of exercises (physical, mental, learning) we think you can also expect to be in less pain. The app is free for the first 7 days and then will cost a subscription fee. There are 10 different types of subscriptions to choose from with a wide-range of prices. The app is customizable to meet your needs and help you to find relief from a bad back and poor posture. Are you ready to stand up

Healing Buddies Comfort Kit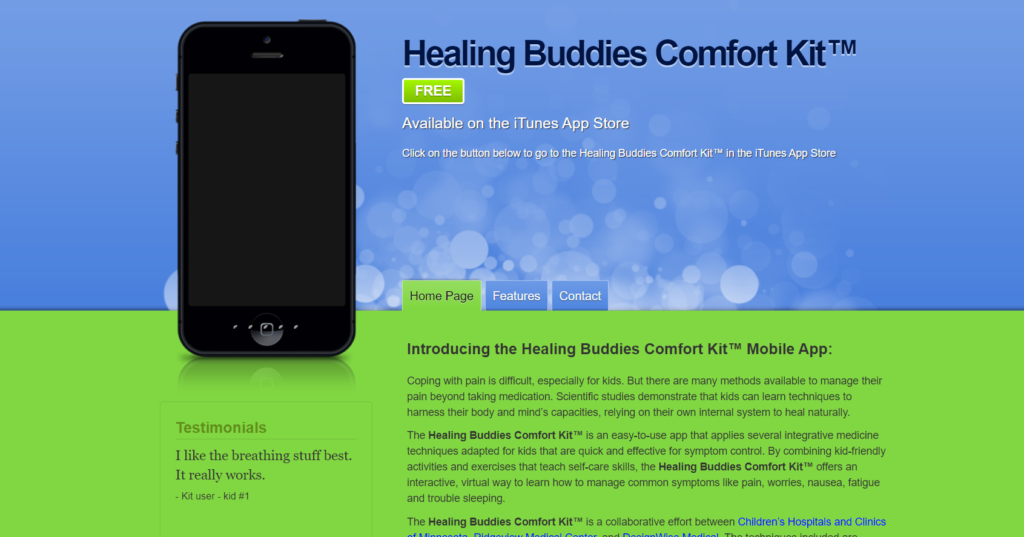 Being in pain sucks and we're pretty sure seeing a child in pain sucks worse. This lovely app is a life-savor for parents of children who are suffering either from pain or other medical concerns. Children who find this tool are also going to rejoice. We know that prescriptions are rough on adults and can be even worse for kids. Most parents are looking for ways around medications where possible. That's why Healing Buddies Comfort Kit is so amazing. It was developed by physicians, psychologists, and nurses who practice in the field of Pediatric Integrative Medicine. Kids will learn 7 key skills over the course of the app which become tools they can pull from when times are tough. If you are looking for an approachable kid-focuses app that helps children manage pain and other ailments then start with this app.

Ada- Your Health Companion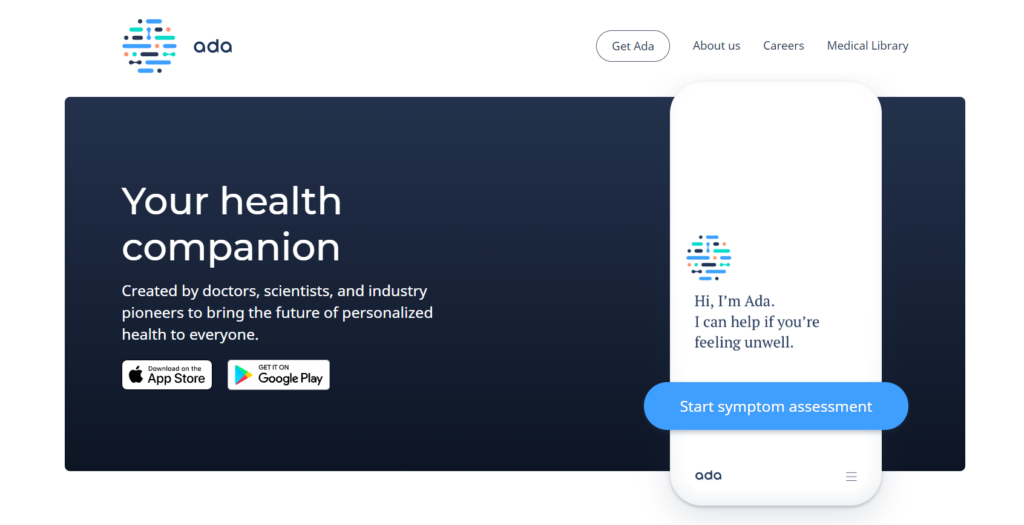 Ada isn't a pain app so we are cheating just a little bit. Though if you are suffering from chronic pain you may start to notice some other things happening in the backdrop of that pain which is why we considered tossing in Ada with our review of the best pain management apps. Ada is an overall health companion and may help you figure out what is triggering your pain and even eliminate it. The reason being that finding the root cause of any symptom is the key to solving the problem holistically. If you have some stomach pain but also find yourself sneezing, you may actually have some food allergies. If you have fatigue along with your pain you may have a stealth infection like Lyme disease. Ada is eerily accurate with her assessments of what may be ailing you but of course is not an alternative to a medical diagnosis. That being said with all of the data available Ada may be just what you need when you are completely stumped.

Pathways Pain Relief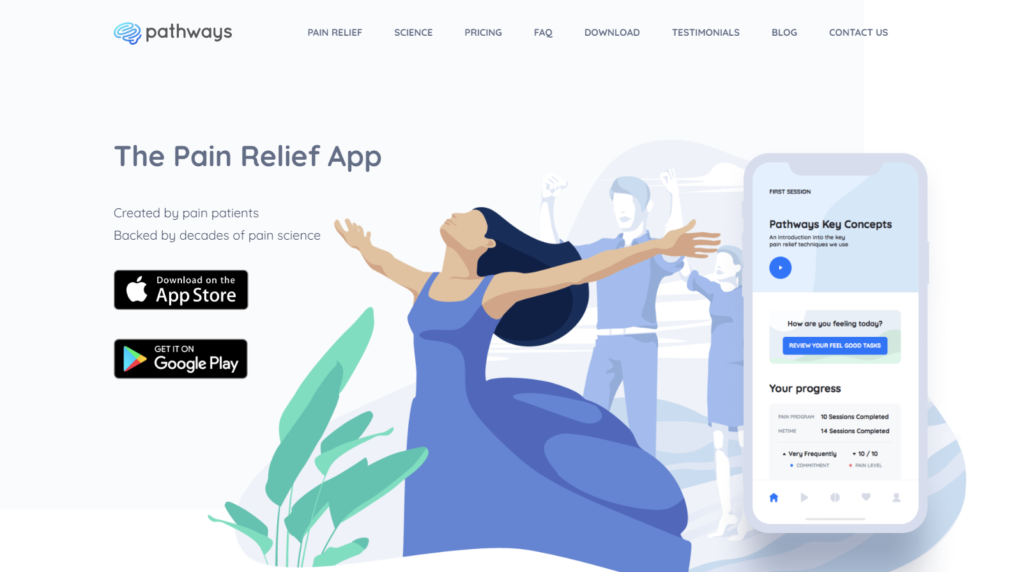 Pathways Pain Relief is an app that is designed specifically to help you relieve your pain. We like this app as it focuses heavily on the mindfulness aspect of relieving pain. The biggest mistake you will ever make when tackling your pain is underestimating the role of the mind. Factors like depression and anxiety can actually make the experience of chronic pain worse. Your mindset and attitude can actually determine the rate by which you get yourself out of chronic pain. We can all use a large dose of mindfulness in our modern society that literally makes us mentally unfocused and as a result unwell. This app uses music therapy, positivity exercises, breathing exercises and so much more to help you find relief from you pain. You'll probably gain a ton of other benefits as well like general well being, greater self-compassion and overall happiness. If you need the mindfulness component (which is often the game-changer) then consider adding in the Pathways Pain Relief app.