Shoulder pain is as common as it is unwelcome. There are lots of causes of shoulder pain, some minor (such as strains or stress knots), some serious (such as a broken collarbone). Shoulder pain may require a medical intervention, such as physical therapy, corticosteroid shots, or even surgery. But garden-variety issues can often be treated safely, affordably and conveniently at home with the right products for shoulder pain.
Your first line of defense is simple and free: rest your shoulder and avoid sleeping on that side of your body. As Harvard Health notes, over-the-counter pain relievers like ibuprofen, ice packs, and warm compresses can also help with shoulder pain and swelling. But sometimes these old fashioned go-to remedies are not enough to relieve your shoulder pain on their own, or prove too cumbersome for everyday use. Fortunately, there are a number of innovative products for shoulder pain that can help you get relief without medication.
Our ranking of the top five products for shoulder pain is based on the five factors that matter most to people looking for the next level at-home pain relief:
Cost: How much will you pay for a single shoulder pain relief item?
Innovation: Does the product offer more than the old-fashioned standard hot/cold/pressure treatment, or deliver it in an enhanced way?
Availability: Is it available online, with fast and/or free delivery?
Quality/Durability: Is the shoulder pain product made with high-quality ingredients or materials that are built to last?
Ease of Use: Can the product be quickly and easily deployed, or used while doing other activities like typing or driving?
We've surveyed listings and verified customer reviews to bring you the best items on the market. Our five best products for shoulder pain relief are innovative, well-made, affordable, and convenient. Some of them are hig-tech, some are surprisingly simple. A few of our top devises are, quite frankly, a little funny-looking, but deliver results that customers swear by. One or more of these top shoulder pain relief products should have you back to your best in short order.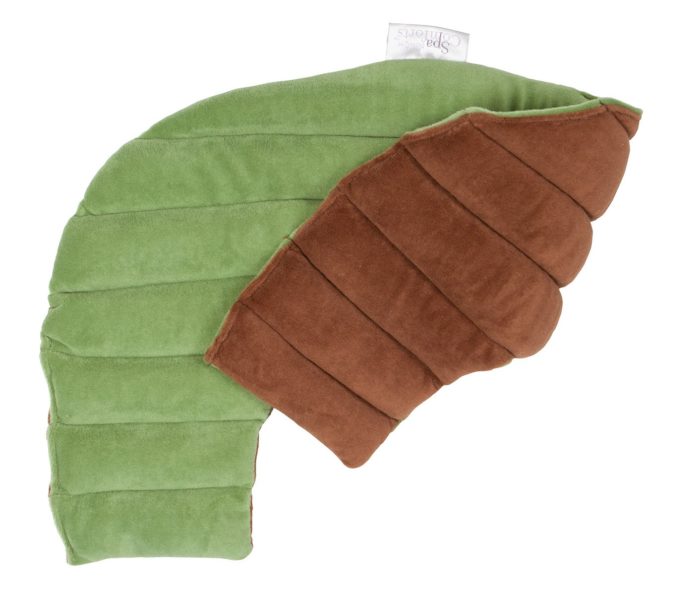 The Dreamtime Spa Comforts Shoulder Wrap with Aromatherapy offers the best of three worlds: heat, cold, and aromatherapy. The soft pad can be microwave or frozen, and sits easily around the neck and shoulders, with little bulk or weight. This product is well-suited to treating shoulder pain from stress knots and strains, and can also be used for general relaxation. Customers give this product high marks for its pleasant aromatherapy scents of peppermint and lavender, which are said to promote relaxation and stress-relief.
Pros and Cons
Pros
Can be used both warm and cold
Pleasant smelling aromatherapy
Slim design means it can be worn around the home or (possibly) office
Cons
May not be large enough for widespread shoulder pain
Smaller size means it loses heat/cold faster than a larger hot/cold pad
Score
Cost Score: 94/100
Innovation Score: 95/100
Availability Score: 100/100
Quality/Durability Score: 100/100
Ease of Use: 100/100
Overall score: 97.8/100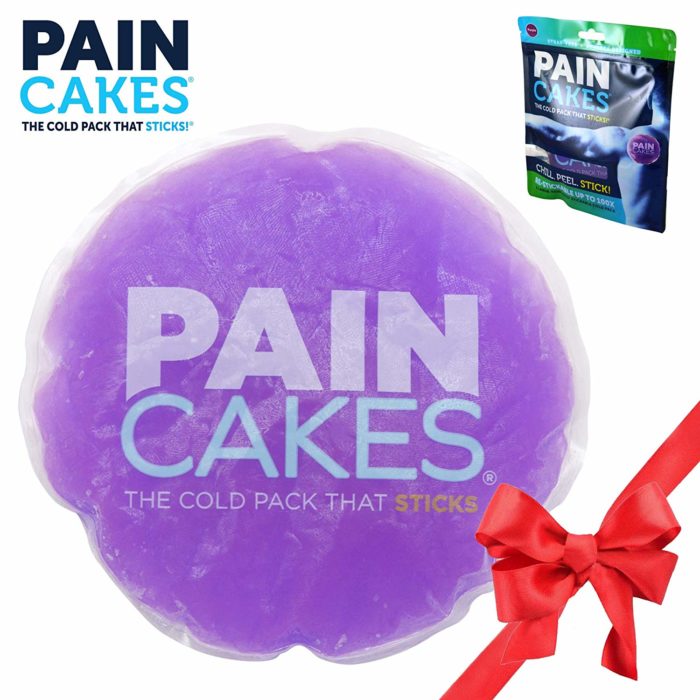 Paincakes Adhesive Cold Packs are smarter than the average ice pack. They look like regular, disc-shaped freezer gel packs, but boast an innovative reusable adhesive pad that makes them far more convenient to use. Simply apply them to clean, dry skin, and enjoy cold shoulder pain relief. They can be re-used and repositioned as many as 100 times, and the soft gel conforms to the shape of your shoulder. They're small and convenient enough to be worn literally anywhere, even at the office or while running errands. They're also the most affordable shoulder pain product on our ranking, at a cost of just $15 per pack.
Pros and Cons
Pros
Can be worn anywhere, no tape or straps required
Re-usable up to 100 times
Low cost of only $15
Cons
Only remains fully cold for 3-10 minutes
Adhesive becomes less effective over time
Score
Cost Score: 98/100
Innovation Score: 90/100
Availability Score: 100/100
Quality/Durability Score: 90/100
Ease of Use: 100/100
Overall score: 95.6/100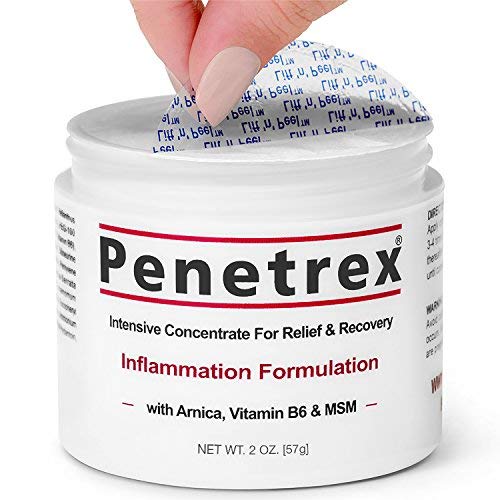 Penetrex Pain Relief Therapy was voted as the #1 overall muscle rub by Business Insider in 2019. Why? You've probably tried topical analgesics that smell strongly and numb the skin with tingly hot and cold sensations. Penetrex aims to deliver relief differently, by addressing the inflammation that causes much of shoulder pain. Its ingredients include Arnica, Glucosamine, Choline, MSM (DMSO2), Boswellia Serrata, and Vitamin B6. This topical shoulder pain relief product has a loyal following, with a stunning 28,199 customer ratings on Amazon averaging 4.2 stars. Best of all, this product for shoulder pain can be used to treat inflammation anywhere on the body as well.
Pros and Cons
Pros
Simply apply to skin, no bulk or mess
Can be used for inflammation and pain in other areas as well as the shoulder
No strong scent
Cons
You'll need to re-stock regularly for ongoing shoulder pain
Cost of $19 for 2 oz can add up if you go through a lot
Score
Cost Score: 92/100
Innovation Score: 60/100
Availability Score: 100/100
Quality/Durability Score: 90/100
Ease of Use: 100/100
Overall score: 88.4/100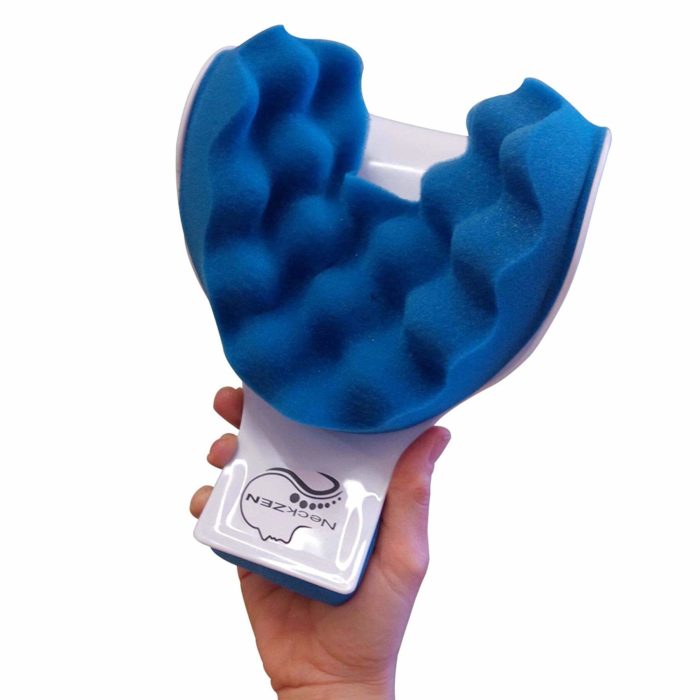 The NeckZen Neck and Shoulder Chiropractic Support is a rather futuristic-looking devise that supports and cradles the head and neck, and gently pulls the head away from the shoulders for deep tension relief and stretching. It's ideal for those with shoulder pain caused by bad posture, stress tension, or muscle aches caused by sleeping in an uncomfortable position. It's also great for relief from tension headaches. The NeckZen Neck and Shoulder Chiropractic Support is meant to be used in stretches of 5-15 minutes, and comes with a set of earplugs and Contour Memory Foam Eye Mask as well. The manufacturers strongly suggest using the devise daily to fully retrain the muscles to conform to their ideal natural position.
Pros and Cons
Pros
Not only relieves muscle aches, but also promotes relaxation
Comfortable to use
Promoters better posture
Cons
Must be used daily for maximum benefit
Cannot be used while doing other activities
Score
Cost Score: 96/100
Innovation Score: 80/100
Availability Score: 100/100
Quality/Durability Score: 95/100
Ease of Use: 90/100
Overall score: 92.2/100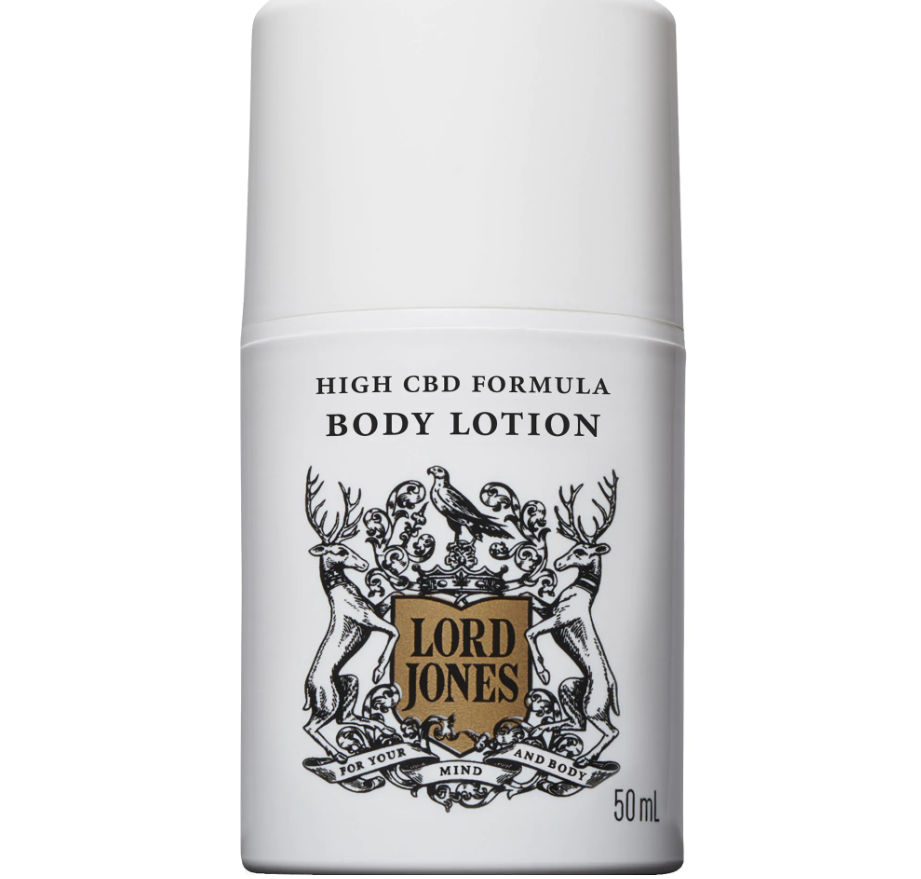 If you're not already on the CBD bandwagon, you probably have friends and colleagues who are, and have heard from others bout the pain relief they've experienced with topical CBD products. But there are so many CBD brands on the market, and many aren't pure. Lord Jones High CBD Formula Body Lotion is among the more expensive brands, but it's earned a place as perhaps the most trusted. It's been endorsed by celebrities like Olivia Wilde, Chelsea Handler and Busy Philipps and is the top pick of brands like Sephorah and media outlets like the Huffington Post. The body lotion contains moisturizing shea butter, broad spectrum CBD oil, and cooling Menthyl Ethylamido Oxalate, and each pump delivers 2 mg CBD. Customers praise its fresh and pleasant scent as well, and it can be used for pain and inflammation relief anywhere on the body.
Pros and Cons
Pros
Fresh scent and moisturizing properties, vegan and cruelty-free
Can be used anywhere on the body
Trusted CBD brand endorsed by high-profile sources
Cons
High cost of $60 per 1.69 oz can add up fast
Only available at Sephorah stores and manufacturer website
Score
Cost Score: 84/100
Innovation Score: 100/100
Availability Score: 80/100
Quality/Durability Score: 100/100
Ease of Use: 100/100
Overall score: 92.8/100